5 Simple Rotisserie Chicken Meal Ideas
05/11/2020 at 16:29 pm
5 Simple Rotisserie Chicken Meal Ideas
We've been told we have some pretty tasty Rotisserie chicken and it's definitely a HarvesTime favorite. We enjoy it in the classic treatment of course, but sometimes we need a little extra help to stretch out that meal—especially with leftover chicken. So, whether you are looking for creative ways to enjoy a familiar favorite or need a few tips to repurpose your rotisserie chicken—this one's for you!  
Rotisserie Chicken Tacos
Make a quick and easy taco night using our salsas or pico de gallo, and our very popular guacamole (all house-made, of course). Combine this with our flavorful, house-made Spanish rice from the hot case and your pick from our selection of corn and flour tortillas. You can get creative with some of the fresh veggie toppings, from shredded carrots, lettuce and tomatoes to the traditional sprinkling of cilantro and chopped onions. We haven't even gotten into all of the cheese options! Experiment with shredded pepper jack, Boar's Head cheddar or traditional, creamy chihuahua cheese and crumbled queso fresco! You can even give your tacos a Greek nod by spreading your tortillas with hummus and topping with fresh veggies and crumbled feta. (We couldn't help but add a little bit of Greek influence here, traditionalists steer clear!) 
BBQ Rotisserie Chicken Sandwiches 
Sauté some onions, add your favorite barbecue sauce and when it's warm add the shredded rotisserie chicken. Serve this on the bun of your choice (we have plenty of local bread makers—including our house-made baked goods for a good base).  To up your game a little, try these on pretzel rolls!  Spanish rice or Greek potato wedges from the hot case, or some of our frozen potato items pair perfectly with these savory sandwiches.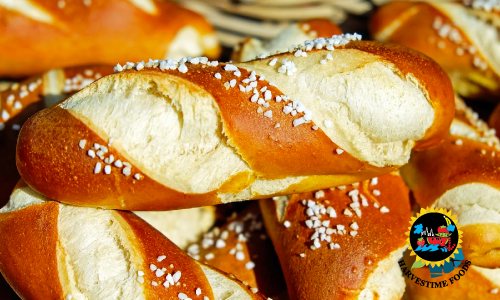 Rotisserie Chicken Alfredo  
If you have the time, you CAN make your own Alfredo sauce. However, if you're looking to keep it simple, choose from a variety of tasty Alfredo sauces from our pasta section.  Heat this up and serve over pasta with shredded Rotisserie chicken. We've already seasoned during the cooking process so the sauce will have a little extra punch from the Rotisserie chicken.  Comfort food and easy peasy!  Did we say peas?  Yes, toss some in and get extra nutrients.  No one will complain! You can also add some fresh herbs at the end and lemon zest for a little extra.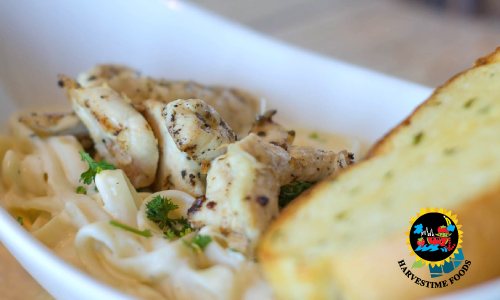 Rotisserie Chicken Pesto Pasta 
For this dish, we like to thin the pesto just a bit with a drop of cream or milk, as you like it.  Serve this over pasta with shredded rotisserie chicken. In Chris' house, oven roasted onions, carrots and bell peppers top it off, making it a beautiful, delicious and balanced meal. Did you know we sell Parmesan cheese that we grate in the store, from a fresh wheel of cheese? There's always room for cheese!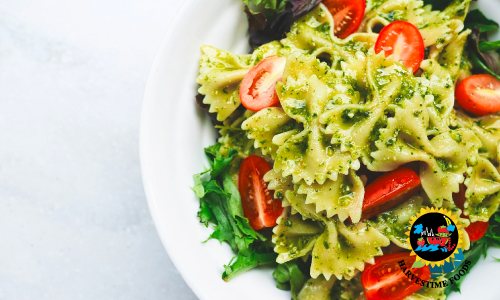 Indian Chicken Masala using Rotisserie Chicken 
Do you crave Indian food as much as we do? Then try our Spicemode brand Masala sauce — it does not get easier than this.  Heat the sauce in a pan, and when warm add the shredded rotisserie chicken. Let it simmer for 15 minutes so the chicken absorbs the flavor. You can also add some frozen peas and carrots or green beans to this before adding the chicken. Now, serve over our house-made Spanish rice and enjoy!
Get the ingredients
Add HarvesTime Foods' Rotisserie Chicken to Your Shopping Cart: 
Can't find the chicken online? Don't worry, just add a note to add this to your shopping cart in the comments section of your order and we will add this item to your cart if it's available.